Honoured Member of the Manitoba Hockey Hall of Fame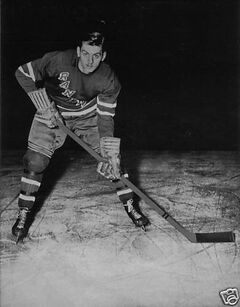 James Donald "Bones" Raleigh

He played junior hockey with the Winnipeg Monarchs in 1942-43 and 1944-45 and with the Brandon Elks in 1945-46. In 1943-44, when World War II caused a shortage of players, Raleigh was called up to the New York Rangers as a 17 year old.
Raleigh would not return to the Rangers until 1947. He would spend nine seasons with the Rangers until 1955, when he was sent down to the minors. He retired in 1958.
Career statistics
Edit
Awards & Achievements
Edit
Ad blocker interference detected!
Wikia is a free-to-use site that makes money from advertising. We have a modified experience for viewers using ad blockers

Wikia is not accessible if you've made further modifications. Remove the custom ad blocker rule(s) and the page will load as expected.