Ad blocker interference detected!
Wikia is a free-to-use site that makes money from advertising. We have a modified experience for viewers using ad blockers

Wikia is not accessible if you've made further modifications. Remove the custom ad blocker rule(s) and the page will load as expected.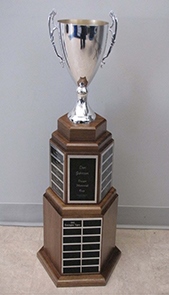 The Don Johnson Memorial Cup is the Junior "B" ice hockey championship of Atlantic Canada. The trophy is present in the honour of former CAHA president Don Johnson.  The trophy and tournament were originally named the Don Johnson Cup. Both were renamed after his death on May 12, 2012.
The leagues involved in the tournament had always been from the Atlantic Canada provinces until the 2014 tournament when the champion of the Eastern Ontario Junior Hockey League were added to the tournament.  The EOJHL was scheduled to host the tournament in 2015 in Arnprior, Ontario, but after Casselman swept the 2014 tournament and the costs involved with including such a distant league the EOJHL left the championship picture.  However, the EOJHL did not return to the Dudley Hewitt Cup tournament for 2015.
Leagues involved
Edit
Champions
Edit
2016 Valley Maple Leafs (NSJHL)
2015 Moncton Vito's (NBJBHL)
2014 Casselman Vikings (EOJHL)
2013 Kensington Vipers (IJHL)
2012 Moncton Vito's (NBJBHL)
2011 Kensington Vipers (IJHL)
2010 Cumberland County Blues (NSJBHL)
2009 St. John's Jr. Caps (SJJBHL)
2008 Windsor Royals (NSJBHL)
2007 East Hants Penguins (NSJBHL)
2006 Bay Ducks (NSJBHL)
2005 Sackville Blazers (NSJBHL)
2004 Sackville Blazers (NSJBHL)
2003 Sackville Blazers (NSJBHL)
2002 O'Leary Eagles (IJHL)
2001 Windsor Royals (NSJBHL)
2000 Subway Slammers (New Brunswick)
1999 Richibucto Bears (New Brunswick)
1998 Windsor Royals (NSJBHL)
1997 Cape Breton Alpines (NSJBHL)
1991-1996 No Champions
1990 St. Margaret's Bay Mariners (NSJBHL)
1989 Sydney Jr. Mills (NSJBHL)
1988 St. John's Jr. 50s (Newfoundland)
1987 St. John's Jr. 50s (Newfoundland)
1986 Mount Pearl Jr. Blades (Newfoundland)
1985 St. John's Jr. 50s (Newfoundland)
1984 Antigonish Bulldogs (NSJBHL)
1983 Antigonish Bulldogs (NSJBHL)
1982 Brother Rice Jr. Celtics (Newfoundland)