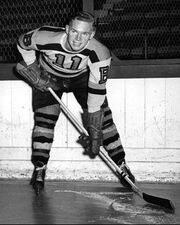 Don Gallinger (born April 16, 1925 in Port Colborne, died in Ontario February 7, 2000) was a professional ice hockey player who played 222 games in the National Hockey League. He played for the Boston Bruins.
He played junior hockey for the St Catharines TeePees.
He was the second youngest player in NHL history when he broke into the NHL with Boston at age 17, playing on the "Sprout Line" of with Bill Shill and Bep Guidolin.
In 1947–48, the Detroit Times ballooned a story in January about two players having talked to a big-time gambler named James Tamer. The players remained anonymous and the story was refuted as an outrageous rumour. However, late in February, NHL president Clarence Campbell announced that circumstantial evidence tended to show that a player or players had wagered on an NHL game. The Detroit police had wiretapped Tamer's phone and came up with the following conversation: Tamer: "How's it going tonight?" Voice: "Fine. One player's girl died and another is sick and I don't plan on doing so good myself. Bet $500 for me."
The conversation referred to Boston defenceman Jack Crawford, whose daughter had died and Milt Schmidt who had a badly injured knee.
Campbell had conversations with Billy Taylor and Gallinger and on March 9th, their sentences were pronounced: Taylor was expelled for life and Gallinger suspended indefinitely pending an investigation of his connection with Tamer. Gallinger later admitted to betting on games and was expelled from the NHL in September, 1948. He tried to get reinstated to pro hockey as late as 1960, but the NHL owners ignored his pleas. Taylor and Gallinger were reinstated in 1970, but never returned to the NHL.
External links
Edit
Ad blocker interference detected!
Wikia is a free-to-use site that makes money from advertising. We have a modified experience for viewers using ad blockers

Wikia is not accessible if you've made further modifications. Remove the custom ad blocker rule(s) and the page will load as expected.