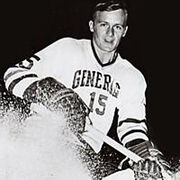 Don Burgess (born June 8, 1946 in Point Edward, Ontario) is a retired professional ice hockey left winger who played 446 games in the World Hockey Association. He played with the Philadelphia Blazers, Vancouver Blazers, San Diego Mariners, and Indianapolis Racers.
Burgess played junior hockey for the St. Catharines Black Hawks and then turned pro with the Greensboro Generals in 1967. He played with that team until 1972 and the formation of the World Hockey Association (WHA).
He signed with the WHA's Philadelphia Blazers in 1972 and moved with them to Vancouver in 1973. After two seasons there he joined the San Diego Mariners from 1975 to 1977 and finished off his WHA career with the Indianapolis Racers in 1977-78 and 1978-79.
After the Racers folded early in the 1978-79 season Burgess joined the San Diego Hawks of the Pacific Hockey League. His last season was with the Spokane Flyers of the Western International Hockey League in 1979-80.
In 446 regular season WHA games, Burgess scored 107 goals and 122 assists. In 22 playoff games he scored 4 goals and 9 assists.
External links
Edit
Ad blocker interference detected!
Wikia is a free-to-use site that makes money from advertising. We have a modified experience for viewers using ad blockers

Wikia is not accessible if you've made further modifications. Remove the custom ad blocker rule(s) and the page will load as expected.