Ad blocker interference detected!
Wikia is a free-to-use site that makes money from advertising. We have a modified experience for viewers using ad blockers

Wikia is not accessible if you've made further modifications. Remove the custom ad blocker rule(s) and the page will load as expected.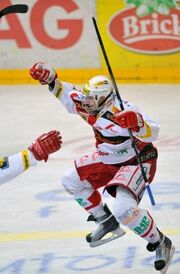 Dmitri Yaskin (* March 23, 1993 in Omsk) is a Czech ice hockey forward.
Player career
The hockey team began in HC Vsetin where he started his older brother Mikhail Jaškinand his father started in the Czech Extra League. In Vsetin played until season 2007/08after the year when he left the team HC Slavia Prague where he finished the youthcategory and debuted in the top Czech league in season 2010/11.
attractions
He became the first Czech who was drafted in the 1st place of the KHL. In 2010 he was drafted into the KHL in the 1st round (1st overall) HK team, Sibir Novosibirsk In 2008 he was drafted into the CHL in the 1st round (60th overall) HITMEN Calgaryteam.
Important dates
9th September 2010 debuted in the top Czech league team against HC LitvinovBENZINA. 28th September 2010 recorded the first assist in the EHL team against HC VitkoviceSteel. 8th October 2010 scored the first goal against a team in the EHL HC Eaton Pardubicegoalie Martin Ruzicka in the third period at time 41:44 == ==
Play-off

Season

Team

Ligue

2004/2005

Vsetín

8

7

11

18

8

—

—

—

—

—

2004/2005

Vsetín

—

10

5

15

—

—

—

—

—

—

2004/2005

Vsetín

.

29

18

29

47

14

—

—

—

—

—

2006/2007

Vsetín

4

1

0

1

0

—

—

—

—

—

2007/2008

Vsetín

40

15

25

40

72

2

2

0

2

6

2008/2009

HC Slavia Praha

46

28

19

47

34

9

6

2

8

8

2009/2010

HC Slavia Praha

12

15

12

27

36

2

1

3

4

4

2009/2010

HC Slavia Praha

40

13

10

23

67

7

2

5

7

26

2010/2011

HC Slavia Praha

1

0

0

0

0

2

2

3

5

2

2010/2011
HC Slavia Praha

33

7

3

10

16

17

2

1

3

31