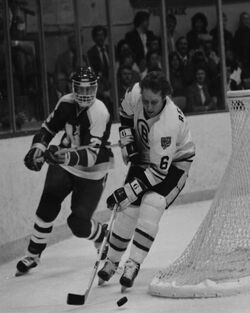 Dick Redmond (born August 14, 1949, in Kirkland Lake, Ontario) is a former NHL defenceman. He is the brother of sporstcaster and former Red Wing, Mickey Redmond.
Redmond played 13 seasons in the NHL, beginning as a first-round pick, 5th overall, in the 1969 NHL Amateur Draft by the Minnesota North Stars. He was traded in 1970 to the now-defunct California Golden Seals, and from there he was traded to the Chicago Black Hawks in 1972. In five seasons with the Black Hawks, Redmond played in 341 games and accumulated 227 points with 218 penalty minutes. After his stint in Chicago, Redmond was traded and ended up with the Boston Bruins, where he finished his career.
External links
Edit
Ad blocker interference detected!
Wikia is a free-to-use site that makes money from advertising. We have a modified experience for viewers using ad blockers

Wikia is not accessible if you've made further modifications. Remove the custom ad blocker rule(s) and the page will load as expected.