Ad blocker interference detected!
Wikia is a free-to-use site that makes money from advertising. We have a modified experience for viewers using ad blockers

Wikia is not accessible if you've made further modifications. Remove the custom ad blocker rule(s) and the page will load as expected.
For the Ontario Hockey League team that was founded in 1989; please see Detroit Compuware Ambassadors.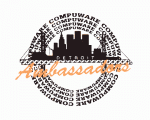 The
Detroit Compuware Ambassadors
(also interchangably known as the
Compuware Ambassadors
for much of their existence) were a junior A hockey team that played in the
North American Hockey League
from 1984 to 2003.  The team was based out of the
Compuware Arena
(now
USA Hockey Arena
) in
Plymouth, Michigan
. 
The Ambassadors organization itself dates back to the mid-1970's when Compuware founder (and later Hartford Whalers/Carolina Hurricanes owner) Peter Karmanos started an organization for youth hockey at all ages and this was their first attempt at such high a level.  Karmanos was the owner of the Windsor Spitfires of the Ontario Hockey League in the early 1980's.  He would later sell the team in 1989 after an attempt to move the team across the river to Detroit, Michigan had failed.  He would later attempt to buy the Sault Ste. Marie Greyhounds and attempt to move them to Detroit. He would obtain an expansion team on December 11, 1989.
The NAHL team would be formed from the Detroit Jr. Red Wings organization that dated back to 1958 as a member of several different Ontario-based junior hockey leagues including the Border Cities Junior B Hockey League and the Southern Ontario Junior A Hockey League. The team joined the Michigan Junior Hockey League. The team would join the North American Hockey League in 1976. The Jr. Wings as they were called at this point went on hiatus for the 1983-84 season and were replaced the following season by the Ambassadors.
The North American Hockey League team would win 11 league playoff championships during its tenure in the NAHL winning 5 straight from 1986 to 1990 and additional championships in 1992, 1994, 1995, 1998, 1999, and 2002.
Yearly Standings
Edit
| Season | GP | W | L | T | OTL | SOL | Pts | GF | GA | PIM | Regular Season Finish | Playoffs |
| --- | --- | --- | --- | --- | --- | --- | --- | --- | --- | --- | --- | --- |
| 1984-85 | 24 | 11 | 9 | 4 | - | - | 26 | 110 | 108 | - | 2nd overall | Lost final |
| 1985-86 | 43 | 17 | 20 | 6 | - | - | 40 | 194 | 224 | - | 3rd overall | Won Championship |
| 1986-87 | 37 | 23 | 8 | 6 | - | - | 52 | 214 | 122 | - | T-1st overall | Won Championship |
| 1987-88 | 32 | 24 | 5 | 3 | - | - | 51 | 212 | 99 | - | 1st overall | Won Championship |
| 1988-89 | 40 | 30 | 8 | 2 | - | - | 62 | 248 | 149 | - | 1st Eastern | Won Championship |
| 1989-90 | 44 | 42 | 0 | 2 | - | - | 86 | 343 | 196 | - | 1st Eastern | Won Championship |
| 1990-91 | 40 | 30 | 5 | 5 | - | - | 65 | - | - | - | 1st Eastern | |
| 1991-92 | 42 | 29 | 8 | 3 | 2 | - | 63 | 229 | 122 | - | 1st Eastern | Won Championship |
| 1992-93 | 42 | 10 | 24 | 6 | 2 | 0 | 26 | 140 | 194 | - | 4th Eastern | |
| 1993-94 | 46 | 27 | 12 | 5 | 2 | 0 | 59 | 213 | 162 | - | 2nd Eastern | Won Championship |
| 1994-95 | 44 | 36 | 6 | 2 | 0 | 0 | 74 | 243 | 115 | - | 1st overall | Won Championship |
| 1995-96 | 46 | 29 | 12 | 5 | 0 | 0 | 63 | 191 | 153 | 1176 | 2nd overall | Lost final |
| 1996-97 | 46 | 33 | 10 | - | 3 | 0 | 69 | 217 | 148 | - | 2nd overall | |
| 1997-98 | 56 | 39 | 16 | - | 0 | 1 | 79 | 219 | 151 | 1315 | 2nd overall | Won Championship |
| 1998-99 | 56 | 39 | 11 | - | 0 | 6 | 84 | 214 | 147 | 1603 | 1st overall | Won Championship |
| 1999-00 | 56 | 38 | 15 | - | 0 | 3 | 79 | 211 | 143 | 1463 | 1st East | |
| 2000-01 | 56 | 32 | 21 | - | 3 | 0 | 67 | 193 | 171 | 1580 | 2nd East | |
| 2001-02 | 56 | 42 | 9 | - | 5 | 0 | 89 | 233 | 138 | 1785 | 1st East | Won Championship |
| 2002-03 | 56 | 41 | 12 | - | 3 | 0 | 85 | 210 | 143 | 1589 | 2nd East | Lost in 2nd round |