Delaney Collins
Position
Defence
Shoots
Left
Height
Weight
5 ft 4 in (1.63 m)
133 lb (60 kg)
CIAU
Canada West
WWHL Team
Concordia Stingers
Alberta Pandas
Calgary Oval X-Treme
Strathmore Rockies
Born
May 2 1977
Pilot Mound, Manitoba
,
Pro Career
1998 – present
Delaney Collins (born on May 2, 1977 in Pilot Mound, Manitoba) played for the Canadian National women's ice hockey team from 1998 to 2009.[1]
Playing career
Edit
In 1992 and 1995, she played in the Western Shield as a member of the Notre Dame Hounds hockey school in Wilcox,Sakachawn.
Hockey Canada
Edit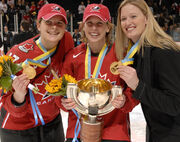 Collins was a member of Canada's gold medal-winning National Women's Under-22 Team at the 1998 Christmas Cup. In addition, she has played in five IIHF World Women's Championships. She was part of the gold medal winning teams in 2000, 2004 and 2007. She was part of the 2005 and 2008 teams that won silver. In addition, she participated in six 3 Nations/4 Nations Cups (2000, 2001, 2003, 2005-2007). In March 2011, she was invited to the Canadian national women's ice hockey team selection camp to determine the final roster for the 2011 IIHF Women's World Championships.[2] On August 23, 2011, Collins announced her retirement from the Canadian national team.[3]
University
Edit
Her first experience playing Canadian University hockey was with the Concordia Stingers in 1998. The Stingers won the CIAU championship. Collins played two years with the Alberta Pandas from 2003-05. She was part of the team that captured the 2004 CIS national championship. Collins assisted on the game winning goal scored by Danielle Bourgeois in the 2004 CIS National Championship game. [4]
2007-08: Helped Calgary win the WWHL championship in 2008 and 2007 …
2008-09: A member of the WWHL's Calgary Oval X-Treme …
With the X-Treme, Collins participated in the Esso Women's National Championships. She won a gold medal at the 2001, 2003 and 2007 tournaments with Team Alberta. She also won a bronze medal in 2000 with Team Alberta. At the 1999 Esso Nationals, she played with a team from New Westminster that represented British Columbia.
Coaching career
Edit
On August 23, 2011, Collins has been hired as an assistant coach for the 2011–12 Mercyhurst Lakers women's ice hockey season.[5]
Awards and honors
Edit
1998 CIAU All-Canadian Team
Canada West First-Team All-Star and CIS First All-Canadian Team in 2004 and 2005
2005 CIS National Championship All-Star Team
Media All-Star Team at the 2007 IIHF World Women's Championship
Named the 2007 Manitoba Female Athlete of the Year
Her father, Rod, coaches at Shattuck St. Mary's Prep School in Faribault, Minnesota.
Reference
Edit
Ad blocker interference detected!
Wikia is a free-to-use site that makes money from advertising. We have a modified experience for viewers using ad blockers

Wikia is not accessible if you've made further modifications. Remove the custom ad blocker rule(s) and the page will load as expected.