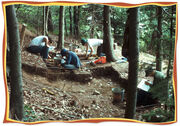 Debert is a small community in northwestern Nova Scotia Canada.
During World War II it was the site an army base where Canadian troops would deploy before being shipped overseas.
It was also the site of a large air force training base.
Winnipegs
Service Corps
Engineers
Reginas
Canadian Scottish
External Links
Edit
Ad blocker interference detected!
Wikia is a free-to-use site that makes money from advertising. We have a modified experience for viewers using ad blockers

Wikia is not accessible if you've made further modifications. Remove the custom ad blocker rule(s) and the page will load as expected.