Ad blocker interference detected!
Wikia is a free-to-use site that makes money from advertising. We have a modified experience for viewers using ad blockers

Wikia is not accessible if you've made further modifications. Remove the custom ad blocker rule(s) and the page will load as expected.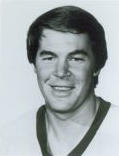 Dean Hopkins (born June 6, 1959 in Cobourg, Ontario) is a retired professional ice hockey forward.
Playing career
Edit
Dean Hopkins started off his junior career with the 1974–75 Owen Sound Greys of the Mid-Ontario Junior B Hockey League. Afterwards played with the Ontario Hockey League's London Knights from 1975 until 1979. He was drafted 29th overall by the Los Angeles Kings in the second round of the 1979 NHL Entry Draft and spent most of the next four seasons with the big club. Over the next eight seasons, Hopkins played in various minor league cities, but also managed short stops with the Edmonton Oilers and Quebec Nordiques. Hopkins played senior hockey with the Durham Huskies and also had a brief coaching stint in the American Hockey League as an assistant coach with the Halifax Citadels from 1990-92.
Career statistics
Edit
 
 
Regular Season
 
Playoffs
Season
Team
League
GP
G
A
Pts
PIM
GP
G
A
Pts
PIM
1974–75
Owen Sound Greys
MOJBHL
38
21
20
41
44
1975–76
London Knights
OHA
53
4
14
18
50
1976–77
London Knights
OHA
63
19
26
45
67
19
4
8
12
17
1977–78
London Knights
OHA
67
19
34
53
70
11
1
5
6
24
1978–79
London Knights
OHA
65
37
55
92
149
7
6
0
6
27
1979–80
Los Angeles Kings
NHL
60
8
6
14
39
4
0
1
1
5
1980–81
Los Angeles Kings
NHL
67
8
18
26
118
4
1
0
1
9
1981–82
Los Angeles Kings
NHL
41
2
13
15
102
10
0
4
4
15
1982–83
Los Angeles Kings
NHL
49
5
12
17
43
1982–83
New Haven Nighthawks
AHL
20
9
8
17
58
1983–84
New Haven Nighthawks
AHL
79
35
47
82
162
1984–85
New Haven Nighthawks
AHL
20
7
10
17
38
1984–85
Nova Scotia Oilers
AHL
49
13
17
30
93
6
1
2
3
20
1985–86
Edmonton Oilers
NHL
1
0
0
0
0
1985–86
Nova Scotia Oilers
AHL
60
23
32
55
133
1986–87
Nova Scotia Oilers
AHL
59
20
25
45
84
1
0
0
0
5
1987–88
Nova Scotia Oilers
AHL
44
20
22
42
122
5
2
5
7
16
1988–89
Quebec Nordiques
NHL
5
0
2
2
4
1988–89
Halifax Citadels
AHL
53
18
31
49
116
3
0
1
1
6
1989–90
Halifax Citadels
AHL
54
23
32
55
167
6
1
4
5
8
1990–91
Halifax Citadels
AHL
3
2
0
2
2
NHL Totals
223
23
51
74
306
18
1
5
6
29
External links
Edit