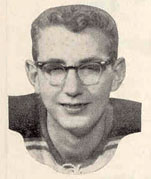 Dave McComb (born February 20, 1942 in Toronto, Ontario) is a retired Canadian centre who played in the senior and minor pro ranks.
He played junior hockey for the Guelph Royals (a New York Rangers farm team) in 1961-62. McComb then turned pro in 1962 and played for the Sudbury Wolves (EPHL) followed by the St. Paul Rangers.
In the 1964-65 season he was traded to the Montreal Canadiens as part of the Bill Hicke - Dick Duff deal. McComb still remained in the minor leagues.
He played senior hockey form 1967 until his retirement in 1972, He was also the playing-coach of the Nelson Maple Leafs in 1968-69 and of the Owen Sound Crescents in 1971-72.
Ad blocker interference detected!
Wikia is a free-to-use site that makes money from advertising. We have a modified experience for viewers using ad blockers

Wikia is not accessible if you've made further modifications. Remove the custom ad blocker rule(s) and the page will load as expected.