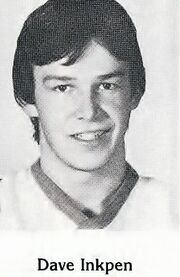 Dave Inkpen
(born September 4, 1954 in
Edmonton, Alberta
) was a
Canadian
defenceman
who played 293 games in the
World Hockey Association
for the
Cincinnati Stingers
,
Indianapolis Racers
,
Edmonton Oilers
,
Quebec Nordiques
, and
New England Whalers
.
He played junior hockey for the Edmonton Oil Kings from 1971 to 1974. The New York Islanders chose him 129th overall in the 1974 NHL Amateur Draft while the Cincinnati Stingers chose him 18th overall in the 1974 WHA Amateur Draft.
Inkpen turned pro in 1974-75 and played minor pro hockey in the Islanders' system. In 1975-76 he signed with the Stingers and began a four year career in the World Hockey Association (WHA) with five different teams, ending up with the New England Whalers in 1978-79 when the WHA folded.
He was not reclaimed by the Islanders in 1979 and was therefore retained by the Hartford Whalers. Inkpen played a season with the Springfield Indians.
In 1980 he went to Germany and played four seasons with Essen EHC and one with the Iserlohn Roosters. He retired in 1985.
In the WHA Inkpen played 293 games and scored 13 goals and 76 assists.
Ad blocker interference detected!
Wikia is a free-to-use site that makes money from advertising. We have a modified experience for viewers using ad blockers

Wikia is not accessible if you've made further modifications. Remove the custom ad blocker rule(s) and the page will load as expected.