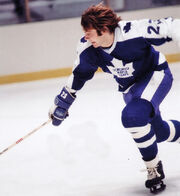 Dave Hutchison (born May 2, 1952 in London, Ontario) is a retired former professional ice hockey defenceman who played for the Philadelphia Blazers and Vancouver Blazers of the World Hockey Association, plus the Los Angeles Kings, Toronto Maple Leafs, Chicago Blackhawks and New Jersey Devils of the NHL.
He was noted for his aggressive, hard-nosed defensive play more than his offensive prowess. He often played in a defensive tandem with more flashy defensemen such as Börje Salming and Doug Wilson.
He was chosen 36th overall by the Los Angeles Kings in the 1972 NHL Amateur Draft but chose to play for the Philadelphia Blazers and the Vancouver Blazers of the World Hockey Association for two seasons.
In 1974 Hutchison finally joined the Kings and began a ten year career almost exclusively in the NHL (he played 2 games for the minor pro Wichita Wind in 1982-83). He retired in 1984.
In 584 NHL games, he scored 19 goals and 97 assists with an amazing 1550 penalty minutes,
Ad blocker interference detected!
Wikia is a free-to-use site that makes money from advertising. We have a modified experience for viewers using ad blockers

Wikia is not accessible if you've made further modifications. Remove the custom ad blocker rule(s) and the page will load as expected.