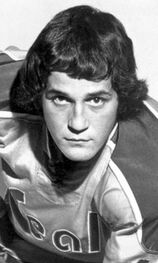 David "Wrecker" John Hrechkosy
Hometown: North End, Winnipeg, Manitoba
Died: March 7, 2012 at Salt Lake City, Utah
Position: Left Wing
played in the MJHL with the West Kildonen in 1969-70. ... picked up by Dauphin for the Memorial Cup playoffs. ... the next year he scored 16 goals and was a tireless worker on the WCJHL's Winnipeg Jets. ... signed with NY Rangers. ... scored 31 goals with New Haven (EHL) in 1971-72. ... promoted to Rochester (AHL) for 1972-73. ... traded to California. ... played a couple of games for the Seals in 1973-74. ... saw most of his ice time with the Salt Lake Golden Eagles (WHL) where he notched 36 goals. ... stuck with Seals in 1974-75, scoring 29 times. ... runner-up for NHL rookie of the year. ... dropped to nine goals the next season and was eventually relegated to the minors. ... finished the season in St. Louis, after being traded. ... played 15 games the next season for the Blues, before being sent down. ... spent the remained of his career in the minors.
Career Statistics
Edit
Career Moves
Edit
Traded to California by NY Rangers with Gary Coalter to complete transaction that sent Bert Marshall to NY Rangers, May 17, 1973.
Traded to St. Louis by California for St. Louis' 5th round choice in 1976 Amateur Draft and California's 3rd round choice in 1977 Amateur Draft, March 9, 1976.
External links
Edit