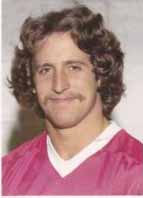 David Hindmarch (born October 15, 1958 in Vancouver, British Columbia) is a former National Hockey League right winger for the Calgary Flames.
He played for the University of Alberta from 1976 to 1979 and was chosen 114th overall by the Atlanta Flames in the 1978 NHL Amateur Draft. In 1979 he joined the Canadian Olympic team and played in the 1980 Olympics.
In 1980-81 Hindmarch turned pro with the Flames. Most of his four years in the pros were spent with the NHL team but he also played some in the minors. On December 16, 1983, he suffered a career-ending knee injury.
He played in 99 NHL games, all of which were for the Flames. He recorded 21 goals and 17 assists for 38 points.
External links
Edit
Ad blocker interference detected!
Wikia is a free-to-use site that makes money from advertising. We have a modified experience for viewers using ad blockers

Wikia is not accessible if you've made further modifications. Remove the custom ad blocker rule(s) and the page will load as expected.