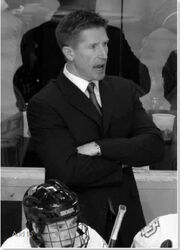 Dave Hakstol (born July 30, 1968 in Drayton Valley, Alberta) is the current head coach for the Philadelphia Flyers and the former head coach of the University of North Dakota Fighting Sioux hockey team. Hakstol was a player for the Fighting Sioux from 1989 to 1992.
1989-92 University of North Dakota player
1992-94 Indianapolis Ice (IHL) player
1994-96 Manitoba Moose (IHL) player
1996 Manitoba Moose (IHL) - assistant coach
1998 Central District Team (USA) National Select 16 Festival - head coach
1998 USA/USHL Team IIHF Four Nations Cup - head coach
1996-2000 Sioux City (USHL) - general manager and head coach
2000-2004 University of North Dakota - associate head coach
2004-2015 University of North Dakota - head coach
2015-present Philadelphia Flyers
Head coaching record
Edit
Season
Team
Overall
Conference
Standing
Postseason
North Dakota (WCHA) (2004–present)
2004–2005
North Dakota
25-15-5
13-12-3
5th
NCAA Runner-up
2005–2006
North Dakota
29-16-1
16-12-0
t-4th
NCAA Semifinals
2006–2007
North Dakota
24-14-5
13-10-5
3rd
NCAA Semifinals
2007-2008
North Dakota
28-11-4
18-7-3
2nd
NCAA Semifinals
2008-2009
North Dakota
24-15-4
17-7-4
1st
NCAA Regionals
2009-2010
North Dakota
25-13-5
15-10-3
t-4th
NCAA Regionals
North Dakota:
155-84-24
92-58-18
Total:
155-84-24

      National Champion         Conference Regular Season Champion         Conference Tournament Champion
      Conference Regular Season & Conference Tournament Champion       Conference Division Champion
Ad blocker interference detected!
Wikia is a free-to-use site that makes money from advertising. We have a modified experience for viewers using ad blockers

Wikia is not accessible if you've made further modifications. Remove the custom ad blocker rule(s) and the page will load as expected.