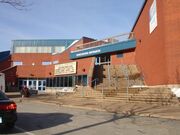 The Dartmouth Sportsplex is an arena located in Dartmouth, Nova Scotia. It has been home to various junior, senior and minor & high school hockey teams. It co-hosted the 2004 World Women's Hockey Championships with the nearby Halifax Metro Centre. The arena is currently home to the Dartmouth Subways Major Midget team. The arena's capacity is 3,000 for hockey. and 3,500 for stage events. There is also a fitness centre and a swimming pool located at the Sportsplex. Former Hockey clubs & events at the sportsplex. Dartmouth Moosehead Mounties. senior hockey, Dartmouth Oland Exports from 1995-1998 of the Maritime Junior A Hockey League.Dartmouth Destroyers of Canadian elite hockey senior league 2005-2006. Home of annual SEDHMA minor hockey international hockey tournament. Air Canada national midget championships in 1992. Fred Page Cup in 1996.
The arena is undergoing extensive renovations and will be closed from May, 2017 to the fall of 2018
The site was formerly home to the Dartmouth Arena, which was built in 1950 and burned down on 16 May 1974
Canada Winter Games - men's and women's ice hockey, February 11-27, 2011
Dartmouth Major Midget 1982-
Dartmouth Whalers Major Bantam 2013-
Metro Marauders Junior A hockey team, 2010–2013 (now Valley Wildcats)
Nova Scotia Liberal Party leadership convention, April 2007
Dartmouth Destroyers, Canadian Elite Hockey League, 2005-2006
IIHF World Women's Championships, 2004 (co-hosted with Halifax Metro Centre)
Emergency shelter, Operation Yellow Ribbon, 2001[3] as part of the response to the terrorist attacks of September 11, 2001
Dartmouth Oland Exports, Maritime Junior Hockey League, 1995–1998
Dartmouth Moosehead Mounties, 19??-????
Fred Page Cup, 1996,
Air Canada Cup, 1992
External links
Edit
Official Website
Edit
Ad blocker interference detected!
Wikia is a free-to-use site that makes money from advertising. We have a modified experience for viewers using ad blockers

Wikia is not accessible if you've made further modifications. Remove the custom ad blocker rule(s) and the page will load as expected.