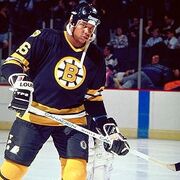 Darren Alexander Banks (born March 18, 1966 in Toronto, Ontario) is a retired Canadian ice hockey player. He played in 20 NHL games with the Boston Bruins.
He played junior hockey for the Leamington Flyers and then played for Brock University from 1986 to 1989. Undrafted by the NHL, Banks played for the Knoxville Cherokees of the ECHL, receiving 258 penalty minutes in 1989-90.
That was enough to get him signed as a free agent by the Calgary Flames in 1990. He spent two penalty-filled seasons with the Salt Lake Golden Eagles and then moved to the Boston Bruins in 1992. Banks played 20 games with the Bruins in 1992-93 and 1993-94.
After that season Banks played in the minor pros until he retired in 2005.
Career statistics
Edit
External links
Edit
Ad blocker interference detected!
Wikia is a free-to-use site that makes money from advertising. We have a modified experience for viewers using ad blockers

Wikia is not accessible if you've made further modifications. Remove the custom ad blocker rule(s) and the page will load as expected.