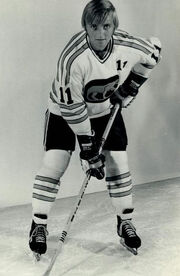 Darrel Knibbs (Born Sep 21 1949 in Medicine Hat, Alberta) is a retired hockey centre. He played 41 games in the World Hockey Association for the Chicago Cougars in 1972-73, scoring 3 goals and 8 assists.
He was drafted by the Montreal Canadians 84th overall in the 1969 NHL Amateur Draft.
Knibbs was the leading scorer in the International Hockey League in 1970-71, winning the Leo Lamoureux Memorial Trophy.