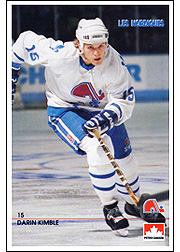 Darin Kimble (born November 22, 1968 in Lucky Lake, Saskatchewan, Canada) is a retired Canadian ice hockey forward.
Kimble was drafted 66th by the Quebec Nordiques in the 1988 NHL Entry Draft. He then started his National Hockey League career with the Nords in 1989. He also played for the Chicago Blackhawks, St. Louis Blues, and the Boston Bruins. He left the NHL after the 1995 season.
An enforcer, Kimble amassed 1,082 penalty minutes in 311 NHL games, while scoring 23 goals and 20 assists, He turned hard work and rugged play into a nice NHL career.
Kimble retired from hockey in 2002.
External links
Edit
Ad blocker interference detected!
Wikia is a free-to-use site that makes money from advertising. We have a modified experience for viewers using ad blockers

Wikia is not accessible if you've made further modifications. Remove the custom ad blocker rule(s) and the page will load as expected.