Ad blocker interference detected!
Wikia is a free-to-use site that makes money from advertising. We have a modified experience for viewers using ad blockers

Wikia is not accessible if you've made further modifications. Remove the custom ad blocker rule(s) and the page will load as expected.
Danijela Rundquist
Position
Forward
Height
Weight
5 ft 10 in (1.78 m)
165 lb (75 kg)
CWHL Team
Burlington Barracudas
Born
September 26 1984
Stockholm, Sweden
,
Pro Career
2002 – present
Olympic medal record
Women's ice hockey
Bronze
2002 Salt Lake City
Team competition
Silver
2006 Turin
Team competition
Danijela Rundqvist (born 26 September 1984 in Stockholm) is a Swedish ice hockey player. She won a silver medal at the 2006 Winter Olympics and a bronze medal at the 2002 Winter Olympics.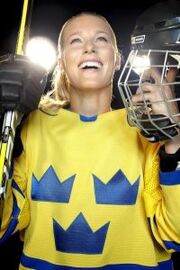 Career stats
Edit
| Season | League | Team | games | goals | assists | pts | +/- | PIM |
| --- | --- | --- | --- | --- | --- | --- | --- | --- |
| 2003-04 | SM-Slutspel Women (SWE) | AIK IF | 5 | 7 | 0 | 7 | +9 | 8 |
| 2004-05 | SM-Slutspel Women (SWE) | AIK IF | 5 | 1 | 0 | 1 | +2 | 12 |
| 2005 | Women's Hockey World Cup | National Team Sweden | 5 | 1 | 0 | 1 | -1 | 10 |
| 2005-06 | IIHF European Women's Champions Cup | AIK IF | 3 | 1 | 3 | 4 | +2 | 6 |
| 2005-06 | SM-Slutspel Women (SWE) | AIK IF | 3 | 3 | 1 | 4 | +2 | 6 |
| 2006 | Winter Olympic Games | National Team Sweden | 5 | 0 | 0 | 0 | -1 | 10 |
| 2006-07 | SM-Slutspel Women (SWE) | AIK IF | 3 | 2 | 0 | 2 | +3 | 2 |
| 2007 | Women's Hockey World Cup | National Team Sweden | 5 | 1 | 1 | 2 | +2 | 0 |
| 2007-08 | SM-Slutspel Women (SWE) | AIK IF | | | | | | |
| 2008-9 | SM-Slutspel Women (SWE) | AIK IF | | | | | | |
| 2009-10 | SM-Slutspel Women (SWE) | AIK IF | | | | | | |
| 2010 | Winter Olympic Games | National Team Sweden | 5 | 2 | 0 | 2 | -5 | 2 |
| 2010-11 | Canadian Women's Hockey League | Burlington Barracudas[1] | 12 | 4 | 2 | 6 | +4 | 14 |
Cite error: <ref> tags exist, but no <references/> tag was found