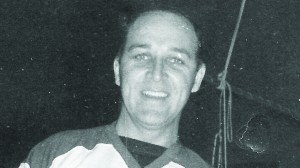 Daniel McKinnon (Born Apr 21 1927 in Williams, Minnesota) is a retired hockey player.  He served in the United States Navy during World War II. He won a Silver medal at the 1956 Olympics. He played for the Sioux City Sunhawks and the Minneapolis Millers during his club career.
Dan was a defenseman on the first three North Dakota Fighting Sioux teams from 1947-48 to 1949-50.  He was named All American for 1949-50. In 1948 he was on the team that beat national powerhouse Michigan Wolverines 6-5, that game is said to have put the Fighting Sioux program on the national map.  He also represented the United States at the 1955 and 1958 World Championships.  He was inducted into the UND Athletic Hall of Fame in 1982.
He passed away August 6, 2017 at the age of 90. [1] [2]
Olympic medal record
Men's Ice hockey
Competitor for United States
Silver
1956 Cortina d'Ampezzo
Ice hockey
References
Edit
Ad blocker interference detected!
Wikia is a free-to-use site that makes money from advertising. We have a modified experience for viewers using ad blockers

Wikia is not accessible if you've made further modifications. Remove the custom ad blocker rule(s) and the page will load as expected.