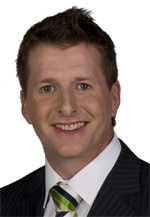 Dan Murphy (born May 6, 1970 in Abbotsford, British Columbia) is a Canadian sportscaster currently working for Rogers Sportsnet.
After graduating from the University of Ottawa with a degree in Communications in 1992, Murphy attended BCIT's Broadcast Journalism program where he graduated in 1995. He quickly got his start in television when he joined Global's Sports Page in Vancouver where he worked as a writer/reporter/producer from 1995 to 1999. Murphy was then hired as a reporter by Sportsnet in November 1999 and hosted Vancouver Grizzlies NBA broadcasts on Sportsnet and VTV during the 2000–01 season.
Murphy currently provides on-site reporting, interviews and promotional spots as part of Sportsnet's Vancouver Canucks coverage, as well as during the Canucks pay-per-view games. Murphy also serves as host/emcee of the annual Canucks "superskills" competition, and he is generally provided with close access to the team whose players nickname him "Murph".
External links
Edit
Ad blocker interference detected!
Wikia is a free-to-use site that makes money from advertising. We have a modified experience for viewers using ad blockers

Wikia is not accessible if you've made further modifications. Remove the custom ad blocker rule(s) and the page will load as expected.