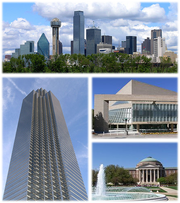 Dallas is a city of Texas, United States. The city is home to 1,232,940 inhabitants; The Fort Worth-Dallas Metroplex, including the suburbs, counts some 6,000,000 people.
Hockey in Dallas
Edit
Dallas hosted the 55th NHL All-Star Game in 2007
(American Hockey Association, 1941-42) suspend operations for duration of WWII
(United States Hockey League, 1945-49) withdrew to form Texas Hockey League
(Texas Hockey League, 1949) league folded before playing
External Links
Edit
Ad blocker interference detected!
Wikia is a free-to-use site that makes money from advertising. We have a modified experience for viewers using ad blockers

Wikia is not accessible if you've made further modifications. Remove the custom ad blocker rule(s) and the page will load as expected.