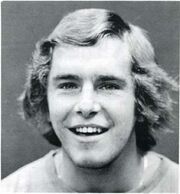 Dale McMullin (born March 13, 1955 in Procter, British Columbia) is a former ice hockey player in the WHA. He played one game for the Edmonton Oilers.
He played major junior hockey for the Brandon Wheat Kings from 1970 to 1976. McMullin played for Canada at the 1975 World Junior Championship. The Atlanta Flames chose him 116th overall in the 1975 NHL Amateur Draft while the Phoenix Roadrunners picked him 95th overall in the 1975 WHA Amateur Draft.
McMullin played in 1976-77 for the Spokane Flyers of the Western International Hockey League. In 1977-78 while again playing for Spokane he got into one game for the Edmonton Oilers. McMullin finished his career in 1979 with the Tucson Rustlers.
External links
Edit
Dale McMullin's career stats at The Internet Hockey Database
Ad blocker interference detected!
Wikia is a free-to-use site that makes money from advertising. We have a modified experience for viewers using ad blockers

Wikia is not accessible if you've made further modifications. Remove the custom ad blocker rule(s) and the page will load as expected.