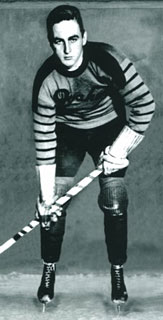 John D'Arcy Coulson (born February 17, 1908 in Sudbury, Ontario - April 13, 1996) was a Canadian professional ice hockey defenceman who played one season in the National Hockey League for the Philadelphia Quakers.
Born in Sudbury, Ontario and raised in Ottawa, he first played for the Ottawa Shamrocks of the Ottawa City Senior League in 1927. Coulson then turned pro with the Chicago Shamrocks of the American Hockey Association in 1929-30. He played for the Quakers in the 1930–31 season, scoring no goals in the NHL but ranking third in the league in penalty minutes that season.
Although drafted by the Montreal Canadiens in 1931 after the Quakers folded, Coulson decided to retire. He came back for two seasons with the Ottawa RCAF Flyers in the Ottawa City Senior League in 1934-35 and 1935-36.
External links
Edit
Ad blocker interference detected!
Wikia is a free-to-use site that makes money from advertising. We have a modified experience for viewers using ad blockers

Wikia is not accessible if you've made further modifications. Remove the custom ad blocker rule(s) and the page will load as expected.