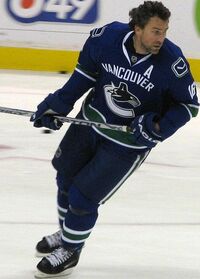 The Cyrus H. McLean Trophy is an award given out by the Vancouver Canucks of the NHL. It recognizes the Canucks leading scorer over the course of the regular season. The trophy was first awarded in the Canucks first season, 1970–71, and has been awarded every year.
Markus Naslund has won the award the most times, leading the Canucks in scoring seven consecutive years, 1999 to 2006, winning the award each year. Of all the winners in the history of the trophy, four-time recipient Pavel Bure recorded the most single-season points in the process with 110 in 1992–93. Most recently, the Cyrus H. McLean has been dominated by the Sedin twins, with Henrik leading scoring in 2007–08 and Daniel leading scoring in 2006–07 and 2008–09.
Award winners
Edit
External links
Edit
Ad blocker interference detected!
Wikia is a free-to-use site that makes money from advertising. We have a modified experience for viewers using ad blockers

Wikia is not accessible if you've made further modifications. Remove the custom ad blocker rule(s) and the page will load as expected.