Croatia men's national ice hockey team
Talk

0
Share
Ad blocker interference detected!
Wikia is a free-to-use site that makes money from advertising. We have a modified experience for viewers using ad blockers

Wikia is not accessible if you've made further modifications. Remove the custom ad blocker rule(s) and the page will load as expected.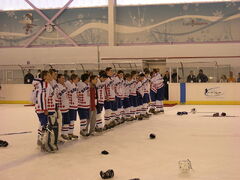 The Croatian men's national ice hockey team represents Croatia in IIHF ice hockey competitions. It is organized by the Croatian Ice Hockey Federation. As of 2008 the team is ranked 26th in the world by the IIHF. At the 2010 Men's World Ice Hockey Championships Croatia will compete in Division I.
World Championship 2009 Roster
Edit
<center>Forwards
#
Player
Date of Birth
Club
3
Dominik Kanaet
May 6, 1991
MHC Martin
8
Petar Trstenjak
June 6, 1992
HC Slovan Bratislava
11
Viliam Chovanec
April 4, 1973
HK Sabinov
14
Mato Mlađenović
January 8, 1978
KHL Medveščak Zagreb
15
Mario Novak
May 8, 1983
KHL Mladost
17
Borna Rendulić
March 25, 1992
Ässät
18
Janko Kučera
June 13, 1987
KHL Mladost
20
Veljko Žibret
June 3, 1978
KHL Medveščak Zagreb
22
Tomislav Grozaj
August 7, 1985
KHL Mladost
23
Damir Jakovac
October 9, 1981
KHL Mladost
27
Krešimir Švigir
December 20, 1979
KHL Medveščak Zagreb
28
Matija Kopajtić
June 26, 1981
KHL Zagreb
External links
Edit
Croatia at National Teams of ice Hockey
References
Edit