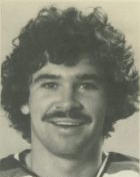 Craig Norwich (born December 18, 1955 in Edina, Minnesota) was an American defenceman who played in 104 games for the Winnipeg Jets, Colorado Rockies, and St. Louis Blues of the NHL and also played in the World Hockey Association.
He played for the University of Wisconsin from 1974 to 1977 where he was an All-American twice (1976 & 1977) and helped the team win the 1977 NCAA championship. The Montreal Canadiens chose him 173rd overall in the 1975 NHL Amateur Draft while the Houston Aeros selected him 213th overall in the 1974 WHA Amateur Draft.
Rather than try to crack the powerful Canadiens' lineup, Norwich instead went to the Cincinnati Stingers of the WHA who had traded for his rights with Houston. Norwich played two full seasons with the Stingers (1977-78 & 1978-79) until the WHA folded. The Winnipeg Jets then claimed him and he played 1979-80 for them.
In 1980 he was traded to the St. Louis Blues. In mid season he was claimed by the Colorado Rockies. Later on in 1981 he signed as a free agent with the New York Rangers but his NHL career was over. In 1982 he went to Europe where he played with teams in Switzerland and Italy until he retired in 1987.
In the NHL he played in 104 games and scored 17 goals and 58 assists.
Norwich played for the United States in the 1977 and 1981 World Championships.
Ad blocker interference detected!
Wikia is a free-to-use site that makes money from advertising. We have a modified experience for viewers using ad blockers

Wikia is not accessible if you've made further modifications. Remove the custom ad blocker rule(s) and the page will load as expected.