Ad blocker interference detected!
Wikia is a free-to-use site that makes money from advertising. We have a modified experience for viewers using ad blockers

Wikia is not accessible if you've made further modifications. Remove the custom ad blocker rule(s) and the page will load as expected.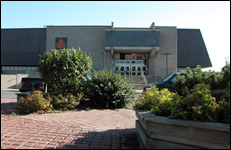 Cornwall is a city of about 45,000 people in eastern Ontario, Canada. It is located on the St. Lawrence River just west of the Ontario - Quebec border.
Although it is well within the area of the Ottawa District Hockey Association it has sometimes entered teams in the Ontario Hockey Association and in leagues under the Quebec Amateur Hockey Association. That is partially because it is on the main railroad line between Montreal and Toronto which made travel westward and eastward easier than travel to Ottawa.
(Central Ottawa Valley Junior League, 1929-1930, 1932-1933)
(St Lawrence League, 1932-1938)
(Interprovincial Senior Hockey League, 1959-1960)
(1962-63 Ottawa District Senior Playoffs)  as Emard Petros
(Ottawa St Lawrence Senior League, 1963-1964)
(Ottawa District Junior Playoffs, 1946)
(New York-Ontario League, 1951-1954) folded
(Ottawa City Senior League, 1936-1938) join Provincial Senior League
(Provincial Senior League, 1938-1939)
(Quebec Senior Hockey League, 1939-1942) return in 1944 in PHL as Cookies
note: Cornwall also had a team in the 1960 Ottawa District Junior Playoffs
Champions
Edit
External Links
Edit