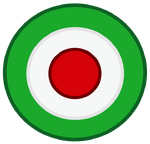 The Coppa Italia (or Italian Cup) is a competition held each year between all the clubs in Italy's top leagues, Serie A and Serie A2.
It was first competed for in 1973 and then in 1974. After that there was no competition until 1991 and then 1998. It became a regular annual tournament in 2000.
Ad blocker interference detected!
Wikia is a free-to-use site that makes money from advertising. We have a modified experience for viewers using ad blockers

Wikia is not accessible if you've made further modifications. Remove the custom ad blocker rule(s) and the page will load as expected.