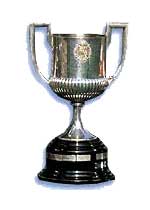 The Copa del Rey (the King's Cup) is the national Cup competition of Spain. It was established in 1972, at the same time as the Superliga Española de Hockey Hielo. The competition format has changed a few times over the years; as of today, it includes a qualification round, played between Division II teams and the worse Division I team, then three rounds of Cup. While the quarterfinals and semifinals involve a series being played, the final consists of one single match.
Just like in football (soccer), the Copa del Rey is a very popular event among the clubs, fans and medias alike. While the Superliga matches are very rarely broadcasted on TV, the Cup final always is.
Past champions
Edit
Ad blocker interference detected!
Wikia is a free-to-use site that makes money from advertising. We have a modified experience for viewers using ad blockers

Wikia is not accessible if you've made further modifications. Remove the custom ad blocker rule(s) and the page will load as expected.