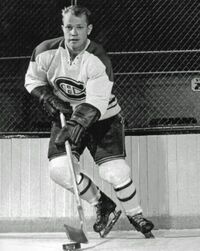 Connell "Connie" Broden (born April 6, 1932 in Montreal, Quebec, Canada) is a retired Canadian forward.
Broden played his entire National Hockey League career with the Montreal Canadiens. He made his NHL debut in 1956 and would retire following the 1958 season. He went on to win two Stanley Cups with Montreal in 1957 and 1958.
Connie Broden has the distinction of being the only hockey player to have won the International Ice Hockey Federation's Ice Hockey World Championships and the Stanley Cup in the same year (1958). Playing for Canada's Whitby Dunlops, Broden won the IIHF's Oslo tournament in scoring with 12 goals and 7 assists in 7 games, scoring at least one goal in every game of the World Championship. Canada beat the Soviet Union National Team 4 – 2 to take the gold in the championship.
Ad blocker interference detected!
Wikia is a free-to-use site that makes money from advertising. We have a modified experience for viewers using ad blockers

Wikia is not accessible if you've made further modifications. Remove the custom ad blocker rule(s) and the page will load as expected.