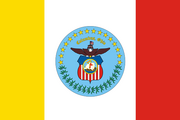 Columbus is a city with a metro atea population of almost 2,600,000 people in Ohio, United States of America.
It is the capital of the state.
The Jerome Schottenstein Center hosted the 2005 Frozen Four
Columbus Blue Jackets (NHL, 2000-Present)
Columbus Checkers (IHL, 1966-1970) sit out one season return as Golden Seals
Columbus Chill (ECHL, 1991-1999) granted voluntary suspension, return as Reading Royals in 2001
Columbus Crush (Central States Hockey League,1998-2003) become Columbus Jr B Blue Jackets
Columbus Jr. B Blue Jackets (Central States Hockey League, 2003-2006) operations shifted to USHL as Ohio Jr. Blue Jackets
Columbus Golden Seals (IHL, 1971-1973) renamed Owls
Columbus OutCold (Great Lakes Junior Hockey League, 2010) were listed on league website at one point but no other information available
Columbus Owls (IHL, 1973-1977) become Dayton Gems
Columbus Stars (United Hockey League, 2003-2004) folded January 9, 2004
Ohio Junior Blue Jackets (USHL, 2006-2008) ceased operations
Collegiate
Edit
Ohio State Buckeyes (Ladies) (WCHA, 1999-Present)
External Links
Edit
Ad blocker interference detected!
Wikia is a free-to-use site that makes money from advertising. We have a modified experience for viewers using ad blockers

Wikia is not accessible if you've made further modifications. Remove the custom ad blocker rule(s) and the page will load as expected.