Ad blocker interference detected!
Wikia is a free-to-use site that makes money from advertising. We have a modified experience for viewers using ad blockers

Wikia is not accessible if you've made further modifications. Remove the custom ad blocker rule(s) and the page will load as expected.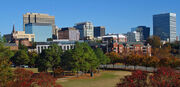 Columbia is the capital and largest city in South Carolina, United States. The city has a population of almost 130,000 and the metro area has almost 750,000 people.
Columbia Inferno (ECHL, 2001-2008) granted voluntary suspension, awaiting building of new arena for team which no progress has been made as of July 2014.
Carolina Coliseum opened in 1968, was not designed for hockey, but as a result, the small rink (about 175 feet by 75 feet, 25 feet shorter and 10 feet narrower than regulation)
Colonial Center
Rockbridge Tennis, Ice Skating & Swimming Club