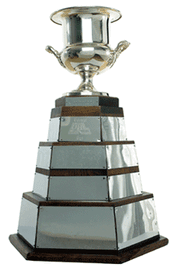 The Colonial Cup was the name of the trophy for the post-season champion of the International Hockey League. On September 24, 2007, the league decided to restore the "Turner Cup" name to the championship trophy as a tribute to the original IHL in honor of Joe Turner, and a new trophy was being designed. Prior to the name change, the trophy had been unchanged in the two prior incarnations of this league first known as the Colonial Hockey League, and later the United Hockey League.
The past winners are:
Ad blocker interference detected!
Wikia is a free-to-use site that makes money from advertising. We have a modified experience for viewers using ad blockers

Wikia is not accessible if you've made further modifications. Remove the custom ad blocker rule(s) and the page will load as expected.