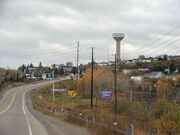 Cobalt is a town of about 1200 people in the central part of Northeastern Ontario, Canada. It is under the Northern Ontario Hockey Association.
It is best known in hockey as being the home of one of the original franchises of the National Hockey Association, the predecessor to the National Hockey League.
(OHA Jr. Playoffs, 1908-1909)
(Northern Ontario Senior Playoffs, 1919-1920)
Father Les Costello Memorial Arena
External Links
Edit
Ad blocker interference detected!
Wikia is a free-to-use site that makes money from advertising. We have a modified experience for viewers using ad blockers

Wikia is not accessible if you've made further modifications. Remove the custom ad blocker rule(s) and the page will load as expected.