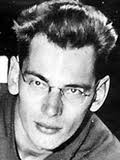 Clinton Howard "The Professor" Albright
Hometown: Winnipeg, Manitoba
Died: December 30, 1999 at Winnipeg, Manitoba
Position: Center

played junior hockey with the Winnipeg Monarchs for two seasons. ... winning the league championship both years and the Memorial Cup in 1946. ... enrolled at the University of Manitoba in 1946 where he played on the school team. ... also played with the senior Reo Flyers, which made two consecutive appearances in the Allan Cup playoffs. ... then he joined the New York Rangers. ... after a fine season of 14 goals, the 23 year old informed GM Frank Boucher that he was going home to Winnipeg to concentrate on his schooling. ... played one more season of semi-pro with St. Paul in 1950-51. ... then played senior with the Trail Smoke Eaters.
Career Statistics
Edit
Awards & Achievements
Edit
Ad blocker interference detected!
Wikia is a free-to-use site that makes money from advertising. We have a modified experience for viewers using ad blockers

Wikia is not accessible if you've made further modifications. Remove the custom ad blocker rule(s) and the page will load as expected.