Ad blocker interference detected!
Wikia is a free-to-use site that makes money from advertising. We have a modified experience for viewers using ad blockers

Wikia is not accessible if you've made further modifications. Remove the custom ad blocker rule(s) and the page will load as expected.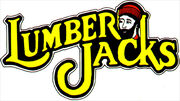 The Cleveland Lumberjacks were an International Hockey League (IHL) team based in Cleveland, Ohio.
Founded: 1992-1993 season
Arena: Richfield Coliseum (capacity 20,000) 1992–1994 & Gund Arena (capacity 19,941) 1994–2001 (renamed the Quicken Loans Arena in August 2005)
Uniform colors: blue, gold, and black
Logo design:
Division titles won: none
Regular season titles won: none
League championships won: none
Mascot: Buzz
Local Media:
Originally formed in 1984 as the Muskegon Lumberjacks, the franchise was moved to Cleveland, Ohio in 1992. It later folded along with the IHL at the end of the 2000-2001 season.
Market previously served by: Cleveland Barons of the NHL (1976–78)
Franchise replaced by: Cleveland Barons of the AHL (2001–06)
Season-by-Season Record
Edit
Note: GP = Games played, W = Wins, L = Losses, T = Ties, OTL = Overtime losses/Shootout losses, Pts = Points, GF = Goals for, GA = Goals against, PIM = Penalties in minutes
| | | | | | | | | | | | |
| --- | --- | --- | --- | --- | --- | --- | --- | --- | --- | --- | --- |
| Season | GP | W | L | T | OTL | Pts | GF | GA | PIM | Finish | Playoffs |
| 2000–01 | 82 | 43 | 32 | 0 | 7 | 93 | 270 | 258 | 1603 | 4th, East | Lost in round 1 |
| 1999–00 | 82 | 40 | 30 | 0 | 12 | 92 | 225 | 238 | 2154 | 4th, East | Lost in round 2 |
| 1998–99 | 82 | 28 | 47 | 0 | 7 | 63 | 248 | 310 | 1847 | 4th, Central | |
| 1997–98 | 82 | 35 | 37 | 0 | 10 | 80 | 228 | 262 | 2151 | 4th, Central | Lost in round 2 |
| 1996–97 | 82 | 40 | 32 | 0 | 10 | 90 | 286 | 280 | 1820 | 2nd, Central | Lost in round 3 |
| 1995–96 | 82 | 43 | 27 | 0 | 12 | 98 | 334 | 330 | 2258 | 3rd, Central | Lost in round 1 |
| 1994–95 | 81 | 34 | 37 | 0 | 10 | 78 | 306 | 339 | 2157 | 4th, Northern | Lost in round 1 |
| 1993–94 | 81 | 31 | 36 | 0 | 14 | 76 | 278 | 344 | 1600 | 3rd, Atlantic | |
| 1992–93 | 82 | 39 | 34 | 0 | 9 | 87 | 329 | 330 | 2324 | 2nd, Atlantic | Lost in round 1 |
Team records
Edit
Goals: 48 Dave Michayluk (1993–94)
Assists: 70 Jock Callander (1993–94)
Points: 112 Dave Michayluk (1992–93)
Points, Defenseman: 98 Theodore Lachmann (1993-94)
Penalty Minutes: 427 Paul Laus (1992–93)
GAA: 1.50 Steve Passmore (1999–00)
SV%: .950 Michel Larocque (1999–00)
Career Goals: 181 Jock Callander
Career Assists: 279 Jock Callander
Career Points: 460 Jock Callander
Career Penalty Minutes: 948 Rick Hayward
Career Goaltending Wins: 43 Philippe DeRouville
Career Shutouts: 6 Zac Bierk
Career Games: 501 Jock Callander
External links
Edit