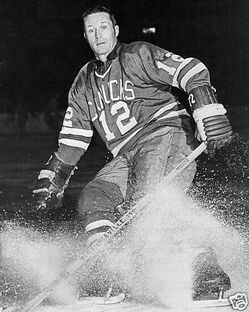 Cleland "Keke" Mortson (born March 29, 1934 in Arntfield, Quebec) is a retired professional ice hockey centre who played 73 games in the World Hockey Association. He played for the Houston Aeros.
He played junior hockey for the Kitchener Greenshirts in 1951-52 and then embarked on a twenty-one year odyssey through hockey's minor pro leagues. It was interrupted by a season with the junior Barrie Flyers in 1953-54.
Mortson managed to play for many teams throughout North America for over two decades without getting a shot at the NHL.
The formation of the World Hockey Association (WHA) in 1972 finally gave him a big-league chance. He signed with the Houston Aeros and played 67 games in 1972-73, scoring 13 goals and 16 assists. His only other stint with the Aeros was in 1977-78, when he played in 6 games and scored 1 assist.
He retired in 1978.
References
Edit
Ad blocker interference detected!
Wikia is a free-to-use site that makes money from advertising. We have a modified experience for viewers using ad blockers

Wikia is not accessible if you've made further modifications. Remove the custom ad blocker rule(s) and the page will load as expected.