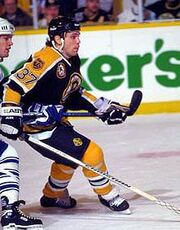 Clayton Beddoes (born November 10, 1970 in Bentley, Alberta, Canada) is a former professional ice hockey centre who played two seasons in the National Hockey League for the Boston Bruins from 1995 to 1997.
He played Tier II Junior "A" for the Red Deer Rebels in 1988-89 and the Weyburn Red Wings in 1989-90. He then played for the Lake Superior Lakers from 1990 to 1994.
Undrafted by the NHL, Beddoes was signed as a free agent by the Boston Bruins in 1994. He turned pro with the Providence Bruins in 1994-95 and then played 60 games for the Bruins over the next two seasons. He scored 2 goals and 8 assists.
In 1997 he signed with the Ottawa Senators but played 1997-98 with the Detroit Vipers. The next year he moved to Europe to play for the Berlin Capitals of the Deutsche Eishockey Liga. He then played one season for Adler Mannheim and another for DEG Metro Stars.
In 2001-02 Beddoes started with the Anchorage Aces but switched in mid-season to HC Sterzing Broncos in Italy. He retired in 2002.
References
Edit
External links
Edit
Ad blocker interference detected!
Wikia is a free-to-use site that makes money from advertising. We have a modified experience for viewers using ad blockers

Wikia is not accessible if you've made further modifications. Remove the custom ad blocker rule(s) and the page will load as expected.