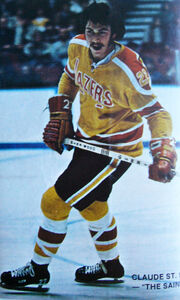 Claude St. Sauveur (born January 2, 1952 in Saint-Hyacinthe, Quebec) is a retired professional ice hockey player who played 285 games in the World Hockey Association and 79 games in the National Hockey League. He played for the Indianapolis Racers, Cincinnati Stingers, Edmonton Oilers, Philadelphia Blazers, Vancouver Blazers, Calgary Cowboys, and Atlanta Flames.
He played junior hockey for the Sherbrooke Castors and scored 50 plus goals in each of his last two seasons (1970-71 & 1971-72). That got him selected 54th overall by the California Golden Seals in the 1972 NHL Amateur Draft.
St. Sauveur chose the World Hockey Association instead and joined the Philadelphia Blazers in 1972. He was sent to the Roanoke Valley Rebels of the Eastern Hockey League and scored 55 goals and won the Rookie of the Year Award. He was called up for a couple of games withe the Blazers.
The next season (1973–74) he moved with the team to the Vancouver Blazers. St. Sauveur played two seasons, scoring a total of 62 goals. He jumped to the NHL's Atlanta Flames in 1975-76 for a season, scoring a very credible 24 goals.
St. Sauveur went back to the WHA nad stayed there until it disbanced in 1979, playing with four different teams. After that he spent two seasons with the Milwaukee Admirals until he retired in 1981.
He was head coach of the Granby Bisons of the Quebec Major Junior Hockey League in 1983-84 & 1984-85.
References
Edit
Ad blocker interference detected!
Wikia is a free-to-use site that makes money from advertising. We have a modified experience for viewers using ad blockers

Wikia is not accessible if you've made further modifications. Remove the custom ad blocker rule(s) and the page will load as expected.