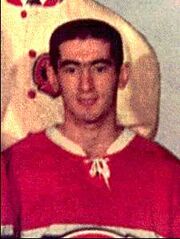 Claude Cyr (May 27,1939 - June 1, 1971) was a Canadian goaltender.
Born in Montreal , Quebec. He played junior Hockey for the Ottawa-Hull Canadiens from 1957-59, While there, he won a Memorial Cup in 1958-59 and, in the same season, was called up to play one period for the Montreal Canadiens. He would never appear in another NHL game.
He turned pro in 1959 and played for various minor pro teams. Also in 1961 he played for the Trail Smoke Eaters as they won the 1961 World Championship.
In 1963 he turned to senior hockey. He played for, among others, the 1964-65 Sherbrooke Castors and the 1966-67 Drummondville Aigles, both of whom won the Allan Cup.
Cyr retired in 1968.
He only played one period of an NHL game but did win the World Championship, Allan Cup, and Memorial Cup.
Ad blocker interference detected!
Wikia is a free-to-use site that makes money from advertising. We have a modified experience for viewers using ad blockers

Wikia is not accessible if you've made further modifications. Remove the custom ad blocker rule(s) and the page will load as expected.