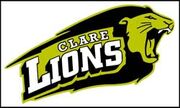 The Clare Lions are a Junior "C" team in Clare, Nova Scotia. They play in the Nova Scotia Junior C Hockey League.
They were admitted to the league in 2005. In 2006-07 & 2007-08 they finished in first place in the Western Division. The Lions lost the league final in 2006-07.
In 2008-09 the Lions finished in first place overall but lost the league final. They finished in first in the West in 2009-10. In 2010-11 the Lions again lost the league final.
The Lions hosted the 2011 Maritime-Hockey North Junior C Championships and won the tournament.
On August 6, 2015 the team announced that they were sitting out the 2015-16 season due to the impact of the Barrington Ice Dogs suspending operations for the 2015-16 season.  This caused the Lions to also take a leave of absence due to the closest team being over 2 hours away.  The Lions have stated they are intending to return to the league for 2016-17 but the loss of its nearby rival would not make playing practical for the 2015-16 season.
Ad blocker interference detected!
Wikia is a free-to-use site that makes money from advertising. We have a modified experience for viewers using ad blockers

Wikia is not accessible if you've made further modifications. Remove the custom ad blocker rule(s) and the page will load as expected.