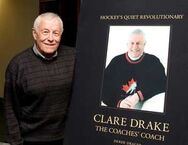 Clare Drake (born January 9, 1928 in Yorkton, Saskatchewan) was a Canadian intercollegiate hockey player and coach. He also coached in the World Hockey Association and in the National Hockey League.
He played hockey for the University of British Columbia until he graduated in 1951 and then played a season for the Alberta Golden Bears.
In 1956 he took over as coach of the Golden Bears and started a legendary career. He won the Caandian national title in 1964, 1968, 1978, 1979, 1980, and 1986.
He also coached Team Canada to a gold medal at the 1984 Spengler Cup. At the 1980 Olympics he was co-coach of the Canadian team. Drake also coached Canada's entry at several World University Games.
Drake was named Canadian Interuniversity Sport coach of the year in 1975 and 1988.
He took a break from coaching the Golden Bears in 1975 to coach the Edmonton Oilers, then in the World Hockey Association. It was not very successful for Drake and he soon returned to the Golden Bears.
When he retired as coach in 1989, Drake had won 697 games, more than any other university coach in North America.
He was inducted into the Alberta Sports Hall of Fame in 1981 and into the Canadian Sports Hall of Fame in 1989.
After his retirement in 1989 he was an assistant coach of the Winnipeg Jets in 1989-90. Later he worked with the Dallas Stars in the 2001 playoffs.
Ad blocker interference detected!
Wikia is a free-to-use site that makes money from advertising. We have a modified experience for viewers using ad blockers

Wikia is not accessible if you've made further modifications. Remove the custom ad blocker rule(s) and the page will load as expected.