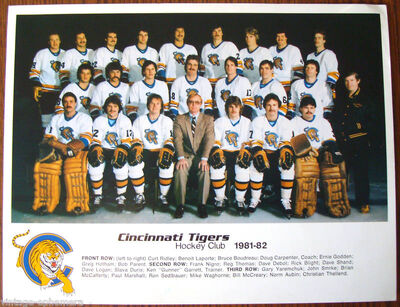 The Cincinnati Tigers were an ice hockey team that played in the old Central Hockey League during the 1981-82 season. They played in Cincinnati, Ohio, USA, at the Riverfront Coliseum.
Their record was 46-30-4-96 375-340, good for 2nd place in the Northern Division. They lost out in the first round of the playoffs. Their coach was Doug Carpenter.
Tigers who played in the NHLEdit
External links
Edit
Ad blocker interference detected!
Wikia is a free-to-use site that makes money from advertising. We have a modified experience for viewers using ad blockers

Wikia is not accessible if you've made further modifications. Remove the custom ad blocker rule(s) and the page will load as expected.