Ad blocker interference detected!
Wikia is a free-to-use site that makes money from advertising. We have a modified experience for viewers using ad blockers

Wikia is not accessible if you've made further modifications. Remove the custom ad blocker rule(s) and the page will load as expected.
Cincinnati Thunder

City:
Cincinnati, Ohio
League:
NA3HL
Division:
Midwest
Founded:
2007
Home Arena:
Cincinnati Gardens
Owner(s):
Ryan Colville
Jim Colville (minority)
General Manager:
Ryan Colville (2015–16)
Head Coach:
Ryan Colville (2015–16)
Affiliates:
Wilkes-Barre/Scranton Knights[1]
Franchise history
2007–2013:
Queen City Steam
2013–2015:
Cincinnati Swords
2015–present:
Cincinnati Thunder
Championships
Regular Season Titles:
0
The Cincinnati Thunder is a USA Hockey sanctioned Tier III Jr. A ice hockey team that competes in the North American 3 Hockey League (NA3HL). The team is based in Evendale, Ohio a suburb of Cincinnati, Ohio the team's home ice is the Sports Plus Arena.
Franchise history
Edit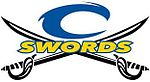 Team logo when the franchise played as the Cincinnati Swords from 2013-2015. The team was previously known as the Queen City Steam from 2007 to 2013.[2] In 2013 the Steam re-branded as the Cincinnati Swords after the merger of two youth hockey programs in the Cincinnati area. The Swords name is a homage to the former American Hockey League team of the same name.[3] On August 14, 2014, the NA3HL approved the sale of the Cincinnati Swords to the Miami Valley Hockey Association owned by Ryan and Jim Colville.[4]
On April 10, 2015, the Swords announced that it would be renamed and called the Cincinnati Thunder beginning with the 2015–16 season.[5] On June 2, 2015 the Thunder announced that they will be playing out of the historic Cincinnati Gardens for the 2015–16 season.
Season-by-season records
Edit
Season
GP
W
L
OTL
SOL
Pts
GF
GA
PIM
Regular Season Finish
Playoffs
Queen City Steam
2007–08
48
29
16
0
3
61
220
193
1191
6th of 13, CSHL
0-3 in Hurster Cup Round Robin
(L, 1-3 vs. Jr. Generals; L, 4-6 vs. Cherokee; L, 0-4 vs. Mustangs)
2008–09
45
27
15
1
2
57
212
150
1026
6th of 12, CSHL
Lost Round 1, 1-2 vs. Dubuque Thunderbirds
2009–10
48
28
18
1
1
58
191
156
1035
6th of 13, CSHL
Lost Round 1, 1-2 vs. Cleveland Jr. Lumberjacks
2010–11
45
24
18
2
1
51
152
133
893
7th of 12, NA3HL
Won Round 1, 2-0 vs. Cleveland Jr. Lumberjacks
2-1 in Hurster Cup Round Robin
(W, 2-1 vs. Mustangs; W, 5-2 vs. Jr. Flames; OTL, 4-5 vs. Hitmen)
Lost Championship game, 0-4 vs. Chicago Hitmen
2011–12
48
21
25
2
0
44
157
166
877
2nd of 4, North Div.
13th of 16, NA3HL
Won Div. Semifinals, 2-0 vs. Michigan Mountain Cats
Lost Div. Finals, 0-2 vs. Flint Jr. Generals
2012–13
48
17
27
0
4
38
126
175
878
3rd of 5, Central Div.
13th of 17, NA3HL
Lost Div. Semifinals, 0-3 vs. Peoria Mustangs
Cincinnati Swords
2013–14
48
25
19
4
—
54
175
164
616
5th of 6, Central Div.
12th of 21, NA3HL
Did not qualify
2014–15
47
6
38
3
—
15
95
248
616
6th of 6, East Div.
31st of 31, NA3HL
Did not qualify
Cincinnati Thunder
2015–16
47
13
28
6
—
32
137
219
962
4th of 5, Midwest Div.
25th of 34, NA3HL
Lost Div. Semifinals, 0-2 vs. St. Louis Jr. Blues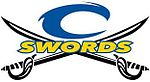 References
Edit
External links
Edit