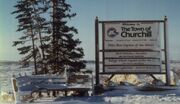 Churchill is a small town of Manitoba, Canada. Nicknamed the Polar Bear Capital of the World due the many polar bears who gather toward the shore of Hudson Bay from mainland, Churchill is home to 923 people.
Hockey in Churchill
Edit
Churchill Minor Hockey Association
Churchill Recreational Hockey League
Churchill's arena is located in the Town Centre Complex, which also holds the local high school, curling rink, swimming pool, gymnasium, etc.
External Links
Edit
Ad blocker interference detected!
Wikia is a free-to-use site that makes money from advertising. We have a modified experience for viewers using ad blockers

Wikia is not accessible if you've made further modifications. Remove the custom ad blocker rule(s) and the page will load as expected.