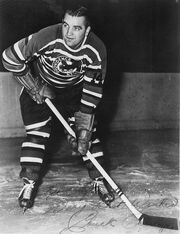 Chuck Scherza (born February 15, 1923) is a former professional ice hockey player who played 11 seasons in the American Hockey League, winning a Calder Cup championship in 1949. He was born in Brandon, Manitoba.
He played junior hockey with the Regina Abbotts and the Oshawa Generals.
Scherza played for the Boston Bruins and New York Rangers in 1943-44 and 1944-45 probably due to the shortage of players caused by World War II. After 1945 he never played in the NHL again.
He played 10 seasons for the Providence Reds. Scherza ended his career with the senior North Bay Trappers in 1959.
He played in 36 NHL games, scoring 6 goals and 6 assists.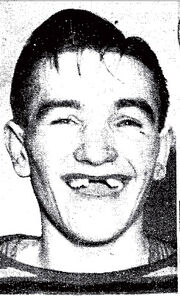 Awards & Achievements
Edit
External links
Edit
Ad blocker interference detected!
Wikia is a free-to-use site that makes money from advertising. We have a modified experience for viewers using ad blockers

Wikia is not accessible if you've made further modifications. Remove the custom ad blocker rule(s) and the page will load as expected.