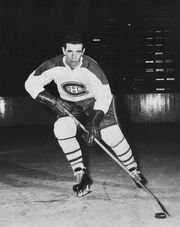 Chuck Hamilton (born January 18, 1939 in Kirkland Lake, Ontario) is a retired Canadian professional ice hockey forward who played 4 games in the National Hockey League for the Montreal Canadiens and St. Louis Blues.
He started out with the junior Peterborough Petes, a Montreal Canadiens farm team from 1956–59 and then with the Hull-Ottawa Canadiens from 1959-63. He played one game with the Canadiens in the 1961-62 season.
The Canadiens then dealt him to the Hershey Bears with whom Hamilton spent eight years (1963–71). He did miss the entire 1970-71 season due to a broken leg and was then traded to the St. Louis Blues.
Hamilton played three games for the Blues in 1972-73 (scoring two assists) and then retired.
He was the coach of the Hershey Bears from 1974-79.
External links
Edit
Chuck Hamilton's career stats at The Internet Hockey Database
Ad blocker interference detected!
Wikia is a free-to-use site that makes money from advertising. We have a modified experience for viewers using ad blockers

Wikia is not accessible if you've made further modifications. Remove the custom ad blocker rule(s) and the page will load as expected.